Memorials
This page is dedicated to football fans who have lost their lives in disasters at football grounds over the years.
---
Hillsborough - 15th April 1989
This was where 96 Liverpool fans lost their lives in a crush in the Leppings Lane end of Sheffield Wednesday's Hillsborough football ground. It happened at the start of the FA Cup semi-final against Nottingham Forest and led to the Taylor Report, which recommended all seater stadia for major football grounds. There were also over 700 fans injured. More details
There are memorials to the 96 at both Anfield and Hillsborough football grounds.
Liverpool FC Hillsborough page
Hillsborough Family Support Group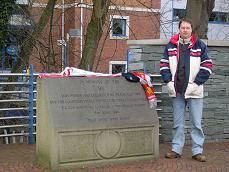 The 96 memorial at Hillsborough, which is situated in front of the main stand at Sheffield Wednesday FC
---
Heysel - 29th May 1985
This was the stadium in Brussels, Belgium where 39 football fans, most of them Juventus fans died in a crush, after a charge by Liverpool hooligans at the 1985 European Cup Final between Liverpool and Juventus. Another 600 fans were injured. More details
There are memorials at both Anfield and the rebulit Heysel stadium. (Not sure if there is one at Juventus?)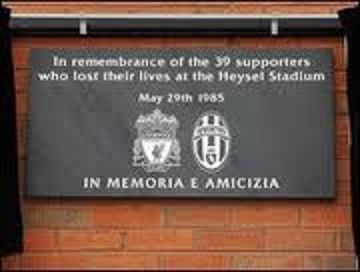 The Anfield memorial to the 39 fans who died at Heysel
---
Bradford - 11th May 1985
This was the fire that destroyed the main stand at Bradford City's Valley Parade stadium during the final match of the 1984-5 season. 56 fans died and 265 were injured in the fire which started just before half time in the match versus Lincoln City. Bradford had won the third Division Championship and a crowd of over 11,00 were in the ground. More details
Bradford University Burns Research Dept
Bradford Burns Unit
---
Ibrox - 5th April 1902/ 16th September 1961/ 2nd January 1971
---
Bolton Burnden Park - 9th March 1946
---
Other football match disasters from around the world
under construction
---