Chesterfield - b2net stadium
9/10/10 Chesterfield vs Southend United 2-1 Attendance: 6,557
My second visit to Chesterfield in less than two years. Of course then it was the crumbling Saltergate stadium and now, since August 2010 it's the new B2net stadium. I leave Leigh-on-Sea at 9.21, and for a change in London there's no Underground work going on, at least for the lines I travel on. So I get to St Pancras at 10.30 with plenty of time to spare. However at St Pancras they announce that the train I'm due to get at 10.55 is running late and won't arrive until five minutes after it is due to leave! In the end it did arrive a little earlier than they said, but by the time it had emptied and they'd let everyone onto the platform, it was still five minutes late departing.On the train I noticed a few Southend fans, as well as one or two Orient and Sheffield Wednesday fans gong to Hillsborough. It only took just over an hour to reach Leicester, where I noticed a lot of police on the station, yet Leicester weren't playing today as all Premiership and Championship games weren't happening due to internationals. I later found out that there was an English Defence League march in town.
The train was about ten minutes late arriving at Chesterfield and when I got off there were about ten other Southend fans getting off too. I text my mate Wino, who runs one of the Southend coaches to see where he was, but didn't get a reply. I walked up the hill and into the town, past the famous crooked spire and then onto Saltergate, which is still standing. Apparently Chesterfield reserves still play there. I walked round the ground taking some photos for this website and then popped into the Barley Mow for a pint of Black Sheep Ale – something I promised myself last time I visited Chesterfield. I then left and walked towards the Town Hall to catch a special bus to the ground.
Then one of those surreal moments happened. Last time I went to watch Chesterfield at Saltergate I ended up sitting next to a nun for the whole game. Actually it was a man dressed as a nun. But as I was walking down the street, just down the road from Saltergate, I saw a couple of nuns walking towards me! This time they were proper nuns and not just men dressed as nuns. Strange coincidence….I eventually found the bus stop, but it was about a fifteen minute wait before the bus came. We were joined by three Villa fans who were visiting a new ground with no game on today. They were singing the praises of Gerrard Houlier, who one said "had brought lots of goals to Villa Park!" The bus fare was just a pound and the journey took less than ten minutes to get to the ground. As it was a bit "up hill and down dale", I was glad that I'd waited for the bus.
The new stadium is situated next to a Tescos – shades of deja vu from two weeks ago at Scunthorpe. From the outside it looked OK. At least it has four separate stands, which I prefer to an oval shaped ground. I then made my way past the stadium and up the Sheffield Road to the Derby Tap pub, where there were loads of Southend fans standing outside. Wino was there and it seemed his mobile phone had gone kaput, hence him not replying to my text messages.Inside it was a real ale drinker's paradise with at least eight real ales on tap. I chose a pint of Nottinghamshire's Castle Rock Alan Sillitoe, (named after the famous poet), for £2.75, which was fine. Outside on the pavement was a cardboard cut out of Southend fan Del Reeves, who hadn't been able to make it as he had to go to a funeral. It even had his SUFC anorak on it, which he'd left on the coach after the Barnet game. Luckily the nice stewards at Chesterfield allowed him into the ground for free, so at least his anorak got to see Southend play!
After the pint I walked back to the ground taking some photos and popping into the club shop to have a look round. I then made my way through the turnstiles, which surprisingly for a brand new stadium are still manned and not bar coded. I also wasn't searched, in spite of carrying a bag in with me. After popping into the loo – all concrete breeze blocks off course - I went out into the stadium, which looks very similar to Col U's, but the two stands along the side have a sloping roof, making it look more unique. The home end behind the goal I would say was about 90% full, whilst the two stands at the side were about 60% full and our end had about 500 Southend fans making it a quarter full. In the end the attendance was just over 6,500 making it a club record, beating the previous one when they played Middlesborough in August.
Southend were playing in their maroon away kit and had won their last two matches, whilst Chesterfield had come back from 4-1 down last week against Crewe to draw five all. Then on Tuesday they'd had another draw against Sheffield Wednesday and lost on penalties, so maybe they night be a bit tired. Southend held their own for the first half hour, before going down to a Doug Whittaker penalty. But they came back into it five minutes before half time when Anthony Grant shot into the net from just outside the box.In the second half it could have gone either way, with both sides blowing several clear cut chances in front of goal. It got to 90 minutes and it looked like we were going to get a well deserved point out of this. But thanks to the lino giving a corner and not a goal kick in the third minute of injury time, the Spireites nicked it right at the end with a well taken volley from substitute, Boden. What made it worse was coming out, I heard a Chesterfield fan saying, "That was the worse we've played all season!"
To add insult to injury, I was going to get the Soccer Bus back into the town centre, but one left just before I got there and as there was a really long queue, I decided to walk it. It took me about twenty minutes hard walking up back to the town centre. What was bad was that two "out of service" buses passed me on the trek back into town and it was only when I reached the town centre, did another Soccer bus go past me. Local Bus Company, TM Transport and Chesterfield FC really do need to get their act together on this. They should take a leaf out of Bolton Wanderers who provide a great service taking fans back into the town after a game, with a whole fleet of buses waiting after the game for the fans. All it would take would be 4 or 5 buses…
I had about ten minutes before my train was due, so I decided to buy some food for the journey at my "favourite" food shop, Greggs the Bakers. Much cheaper than the train. Plus it was just as well I did, as the train I caught didn't have a buffet.On the platform at Chesterfield, apart from several Southend fans, was none other than Paul Sturrock, the Southend manager. He was waiting for a train to take him back home to Plymouth, but he graciously had a chat with me. He seemed genuinely gutted at the defeat and was wondering whether he should have bought his substitutes on earlier. I told him that I thought the team had played well and surely deserved a point and that they would no doubt pick themselves up for the next game. With that I said my goodbyes whilst other fans added their commiserations to mine.
The journey back wasn't too bad apart from one loudmouth Chesterfield fan in my coach, the supposedly "quiet coach", who we had to put with as far as Leicester. I caught a train straight away at Fenchurch Street and was back just after 9.00pm, twelve hours since I set out.
Apart from the result, which really should have been a draw, quite a good day out. Nice to see all the regulars including Wino, Warren, Pete, David and Yorkshire Blue and made some new friends, including a Southend fan from Colchester!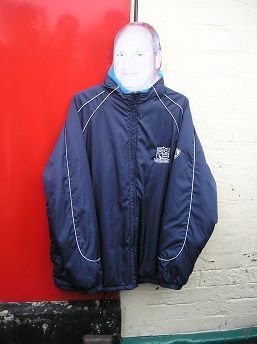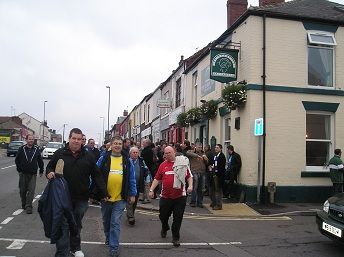 Del outside the Derby Tap... Del, Wino and co leaving the Derby Tap
All text, photographs and information on the Doing the 92 Plus website are copyright and may not be copied or used by individuals, websites or publications without written permission from the webmaster, Mark Chatterton. Any infringement of copyright will be vigorously defended by legal action.
---