Bristol City - Ashton Gate
8/1/11 Bristol City vs Sheffield Wednesday (FA3) 0-3
I booked this visit before Christmas and was able to get the train fare for just £14 each way all the way from Southend to Bristol. Such is the distance of Bristol from London, that I didn't need to leave London Paddington until 12.30. So I didn't leave home until after 10.30. The train I got from Paddington wasn't that full, but I did notice a lot of police about after the news of potential terrorist attacks on stations in London. It was interesting to see a couple of Sheffield Wednesday fans get on at Reading. I wonder where they live? Then some more got on at Swindon along with some Bristol City fans.
The train was on time coming into Bristol Temple Meads and I decided to get a taxi to the ground, but walk back. It took about ten minutes but seemed quite a long way and cost £7. There were plenty of fans about as we got near to the ground, so presumably the £15 reduced admission may have tempted a few fans out of the woodwork.
I did my usual reckky around Ashton Gate, which seemed not that big and quite cramped between the houses and factory units beside it. I visited the club shop, but decided against buying a mascot as they were quite expensive.
I had a ticket for the Dolman Stand, which is the biggest stand of the four and opposite the main stand. I chose that one as it didn't have any pillars and when I booked my ticket, chose a seat right on the very back row. It gave me a great view and was so high that the sun opposite didn't reach my row. What was unusual about it, was that it didn't have any exits in the middle. Instead it had one tiny exit at one side for those at the back. While those in the lower section, had to walk down to the pitch exit. I wonder if health and safety regulations today would allow such a stand to be built?
Opposite me was the smaller main stand, the Williams Stand, with several pillars in place. To my right was the Blackthorn Abyeo Stand which looked fairly new with no pillars. On my left was the Wedlock Stand, which is split in two for home and away fans and much lower than the other three stands. It had pillars and a no man's section in the middle. There were very few Bristol fans in their section, but there must have been getting on for two thousand Sheffield Wednesday fans in their section and they made plenty of noise all through the match.
The music of the William Tell Overture by Rossini is played over the PA just before the teams come out via a tunnel from under the Abyeo Stand. In the Bristol City team are ex-England goalie, David James, and ex-Southend United player, Jamal Campbell-Ryce. He wasn't that popular a player whilst he was at Southend, but the fact that he is still playing in the Championship and Southend and in League 2 must mean something.
The first half is mainly Bristol City with Sheffield getting off the hook when Fontaine headed straight into the goal only for Jamie O'Connor to head it off the line. A couple of good saves by Wednesday keeper, Nicky Weaver kept them in the match. In fact Sheffield didn't look that threatening all through the first half and the score remained 0-0 at half time.
At half time I finally managed to see the Bristol City mascot, Scrumpy the Robin. Such is his girth that he looks like he has been overdoing it on the cider! There was a bar under my stand, but they were only letting in season ticket holders, so no drink for me in Bristol. Instead I made do with a Cornish Pasty and a cup of tea for £4.80. Then a long climb back up all those steps to my seat.
In the second half it was a different matter, with Wednesday getting their first just three minutes after the restart, courtesy of Gary Teale with a well taken header. This was followed by a great run with the ball from defender, Daniel Jones, who crossed it into the box, to find Neil Mellor's head to make it number two after fifty-five minutes. Such was the delight of the Wednesday fans that two ran onto the pitch, only to be pounced on by the stewards and promptly taken away. Then ten minutes later, Jones again made another run down the left and passed this time to Morrison who hit it cleanly into the Bristol goal. Although Bristol did come back into the game they just couldn't get their finishing right and Sheffield held on for a well deserved win.
I waited until the disappointing 11,000 crowd had died down before leaving and taking some more pictures. Then I walked all the way back to the station. It took me well over half an hour, so it was a good job I didn't have the 5.30pm train to catch. There were at least ten Sheffield Wednesday fans on the train back to Paddington, including the two who got on at Reading. At Bath we were joined by a load of Luton fans, who had been to a bore-draw at Bath City's Twerton Park.
We arrived at Paddington on time, but thanks to London Underground, I had to wait over ten minutes for a circle line train to come, meaning that I missed my train at Liverpool Street by a minute. Still I was entertained by the Orient fans arriving from Norwich after their 1-0 win. I finally got home at half past nine.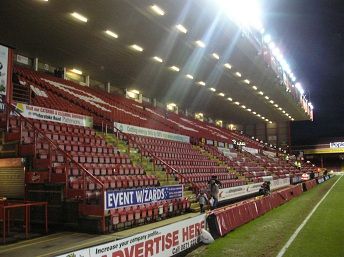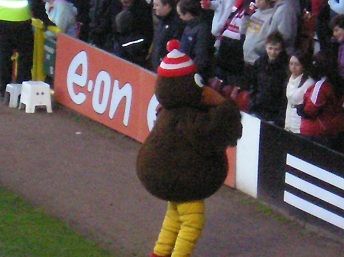 The Dolman Stand at Bristol City Scrumpy the Robin
All text, photographs and information on the Doing the 92 Plus website are copyright and may not be copied or used by individuals, websites or publications without written permission from the webmaster, Mark Chatterton. Any infringement of copyright will be vigorously defended by legal action.
---